SPONSORED FEATURE
The Mahaffey Linkous Orthodontics All Smiles Award, created by Dr. Mike Mahaffey to recognize students in grades 4-8 for their outstanding attitude and character, continues its mission to spread joy and positivity throughout the community. Dr. Mahaffey and Dr. Eric Linkous of Mahaffey Linkous Orthodontics have once again demonstrated their commitment to uplifting young minds by generously providing award winners with a $100 gift card, a certificate, and a yard sign. Participating schools also get a donation equal to the gift cards given out. This year, 42 schools in Fayette, Coweta, and Pike Counties participated in the program.
Dr. Eric Linkous expressed his enthusiasm for the award, stating, "The end of the school year is always such an exciting time to celebrate accomplishments and reflect on highlights of the year. We've found the All Smiles Award to be a great way to support our local schools which are the future of our community and to help celebrate students that bring a smile to others' faces throughout the year with their exceptional character and contagious smiles."
Dr. Mahaffey and Dr. Linkous's dedication to promoting positive values among students has resonated with both educators and parents.
"We are very fortunate to have the opportunity to award two very special students with the All Smiles Award," said Fayette's Spring Hill Elementary School principal, Jamie Munoz. "While we most frequently acknowledge academic accomplishments and attendance, it is crucial to recognize character and citizenship as well, which is exactly what the All Smiles Awards allow us to do."
Coweta's Blake Bass Middle School principal Cindy Bennett echoed that sentiment. "It's a wonderful feeling to be able to recognize a student who has the natural ability to brighten up everyone's day with just a smile," she said. "Their positivity radiates and creates a positive and inviting atmosphere for all around them."
The excitement and joy extend to the award recipients themselves as well as their parents. Tami Arrowood was thrilled to see her daughter Juliette win at Kedron Elementary School in Peachtree City. "There are many reasons that I'm proud of my sweet girl, but displaying an exceptional attitude is near the top of my list," she said. "Looking for the good in people and situations is needed in our world now more than ever."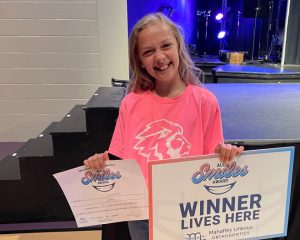 At some schools, administrators choose who wins the All Smiles Award. Trinity Christian School has students vote instead. Fourth-grader Joy Lander of Senoia felt the love because she knew her classmates were the ones who voted for her, including two girls she called her "besties."
"My friend Katie said, 'I knew I should have voted for you. I knew I needed to vote for you.' And then my friend Anna Kate said, 'Congratulations, I voted for you.'"
Joy's mother Rebecca was also excited that her daughter was recognized by about 100 other fourth graders at the Coweta school, and she loves the very idea of this award. "I think that we focus so much on the achievement of kids and sometimes forget about their character," she said. "I think this is such a sweet and cool award just to affirm what we see at home and that she's doing it outside the home as well."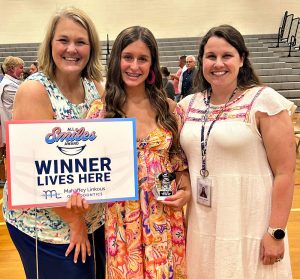 Rolanda Bell wasn't sure what to expect when she learned that her daughter Addie, in her final year at Pike County Middle School, would be recognized at the school's awards event. Both of them burst into tears when the announcement was made at the end of the program. "I felt like they made it a big deal because to me it was the grand finale," said Rolanda, a kindergarten teacher in Pike County, who recalled her late mother always teaching her to be kind and who has tried to pass that down to her own daughter. "I don't care if she makes A's, B's, and C's. If you can't be the smartest one in the class, try to be at least the sweetest one. I know Addie has a big group of friends, but she acknowledges all the kids and not just the popular group."
Dr. Mike Mahaffey expressed his delight in sponsoring the All Smiles Award each year.
"We love this community and we are so fortunate to have such great schools here. Partnering with schools and rewarding students with the All Smiles Awards has been so gratifying," he said. "All the recipients bring a smiling attitude to school and we love hearing about the winners' stories." Dr. Mahaffey extended his congratulations to all the winners and encouraged local students to bring their best to the classroom.
Parents seeking a complimentary consultation regarding braces or aligners to help their child achieve a confident smile are encouraged to contact Mahaffey Linkous Orthodontics at 770-487-6439 or visit peachtreecitybraces.com.
WINNERS
Pike County
Pike Elementary: 4th Kaylin Burden, 5th Jaden Wellmaker
Pike Middle: 6th June Brannon, Athens Stephens, 7th Anna Grace Holmes, Mason Goodman, 8th Addie Bell, Cason Bird
Coweta County, Elementary: Arbor Springs: 4th Aubrey Cofer, 5th Quinn Tackett; Canongate: 4th Madison Jones, 5th McKinley Newsom; Newnan Crossing: 4th Sophia Salazar, 5th Alayna Hazzard; Poplar Road: 4th Walker Parnell, 5th Briley Negrette; Thomas Crossroads: 4th Jack Farrell, 5th Katie Waples; Welch: 4th Alyssa Pollard, 5th Henry Parks; White Oak: 4th Key'Myah Winston, 5th Sha'Niya Alexander; Willis Road: 4th Sofia Sprayberry, 5th Ella Marshall
Coweta County, Middle: Arnall: 6th Jenna-Adriyel Vann, 7th Sophia Chacon, 8th Braedon Thames; Blake Bass: 6th Gabriel Mason, 7th Ava Weil, 8th Farah Jackson; East Coweta: 6th Nolan Davidson, 7th Grace Jenkins, 8th Jolie Huddleston; Lee: 6th De'Andre Thomas, 7th Emma Lewsader, 8th Daniel Rivers
Fayette County, Elementary: Braelinn: 5th Ella Morelli, Braylon Tumblin; Cleveland: 5th Addison Bardney, Alex Negron; Crabapple Lane: 5th Bella Paul; Fayetteville: 5th Rhyleigh Hines, Irene Nguyen; Huddleston: 4th Holly Aldredge, 5th Mallory Hollett ; Inman: 4th Remi Otero, 5th Braylon Johnson; Kedron: 5th Damarco Dumas, Juliette Arrowood; North Fayette: 5th Malcolm Robinson; Oak Grove: 4th Mellie Heard, 5th Olivia Bodnaruk; Peachtree City: 4th Emma Carpenter, 5th Liberty McElroy; Peeples: 4th Guillermo Alaron, 5th Gracie Groth; Robert J Burch: 4th Mariah Ferguson, 5th Steve Soto Santamaria; Sara Harp Minter: 5th Woodleigh Misenheimer, Andrew Jones; Spring Hill Elementary: 5th Hadessah Backus, Carlee Moore
Fayette County, Middle: Bennett's Mill: 6th Landen Tripodis, 7th Vladimir Manzanares, 8th Noah Kell; Flat Rock: 6th Vanessa Aponte Santiago, 7th Damien St. Pierre, 8th Wanda Holder; JC Booth: 6th Leilani Buysing, 7th Daena Ortiz, 8th Sara Hoti; Rising Starr: 6th Sara Kate Layton, 7th Noah Allen, 8th Landry Hunter; Whitewater: 6th Gabe Gillam, 7th Ellie Kuhn, 8th Madison Compton
Charter and Private Schools: Coweta Charter Academy: 4th Naomi Fasogban, 5th Jack Babb, 6th Kaidence Maxwell, 7th CJ McBee, 8th Hope Scruton; Liberty Tech Charter: 4th Reya Timbs-Usher, 5th Naeemah Myrtyl, 6th Colton Briggs, 7th Jeremiah Tuck, 8th Eli Scalf; Central Christian: 4th Zoe Baugh, 5th Ean Leatherwood, 6th Gracen Couch, 7th Mikayla Okpara, 8th Kimari Poitier-Bullard; Crosspointe Christian: 4th Sadie Howard, 5th Kendall Stevens, 6th Jake Patterson, 7th Layla Cohran, 8th Harrison Wilkes; Crossroads Christian: 4th Kristabella Tai, 5th Roxanne Holden, 6th Virginia Edwards, 7th Frank Edwards, 8th Nathanael Tai; Landmark Christian: 6th Brooke Stewart, 7th Aleah Kelso, 8th Jullian Jefferson; St. Paul Lutheran: 4th Kayleigh Rumph, 5th Reagan Harris, 6th Mila Hernandez, 7th Eviana Barfield, 8th Nathen Dover; The Bedford School: 4th Nathan Coffing, 5th Addie Loper, 6th Davis Cape, 7th Aerleigh Wiggins, 8th Max Snyder; Trinity Christian: 4th Joy Lander, 5th Madelyn Zarlenga, 6th Mackenzie Clark, 7th Lucy Reichenbach, 8th Taylor Clark