A group of airmen and civilians from Kadena Air Base on Okinawa have been selected for a service-wide aviation award given annually to the top wing-level maintenance unit.
The 18th Maintenance Group in the fall will receive the Maj. Gen. Clements McMullen Award for the best weapons system maintenance record for fiscal year 2022, group commander Col. Laura Goodman told Stars and Stripes earlier this month.
The award is chosen by Air Force headquarters staff but comes from a Texas-based nonprofit called the Order of Daedalians, a fraternal organization made up of flight officers that supports the military through awards, scholarships and training programs, its website states.
The maintenance group, which last won the award in 1983 as the 18th Tactical Fighter Wing, will now compete against the other service branches for the best maintenance unit in the Department of Defense.
"This is a validation that we were able to effectively support all of the missions, the people, the training, everything that we were required to do, and that we were very successful in doing that," she said.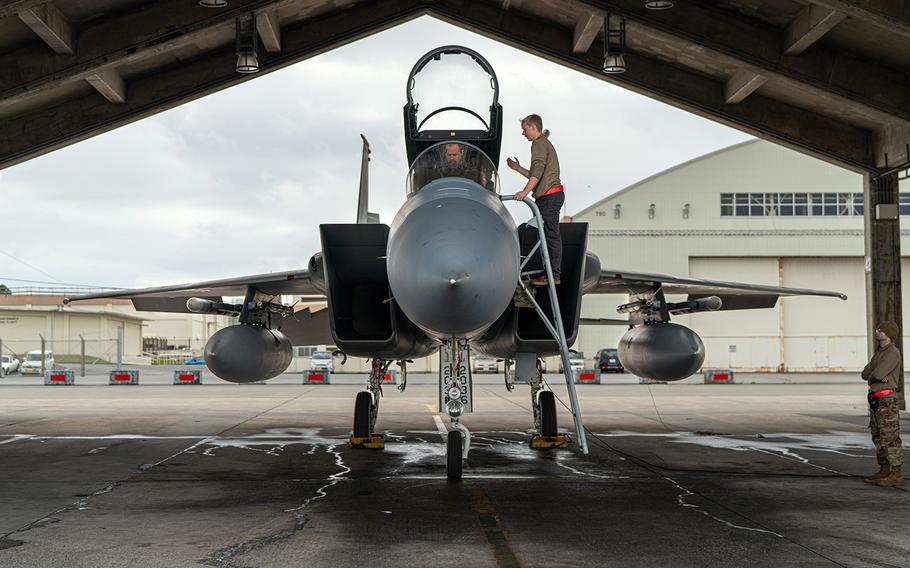 The maintenance group is made up of 2,300 airmen from five squadrons — civilians and contractors that provide maintenance and munitions support to Pacific Air Forces and U.S. Indo-Pacific Command, according to an Air Force statement on June 14. The unit maintains the F-15C/D Eagle, HH-60G Pave Hawk, KC-135 Stratotanker and E-3 Sentry, along with their engines, munitions and support equipment, Goodman said.
The unit generated 7,601 sorties and 17,308 flight hours during the award period, said wing spokesman Staff Sgt. Juan Torres Chardon.
During fiscal 2022, the group maintained a high operational tempo while working around Okinawa's unique weather challenges, including typhoons, Senior Airman Alex Karr, a crew chief from the 67th Aircraft Maintenance Unit, told Stars and Stripes on June 8.
The unit was also responsible for maintaining INDOPACOM's tactical air munitions, operating a centralized engine repair facility and the Air Force's only active-duty industrial inspection and analysis precision measurement equipment laboratory, the statement said.
"All the back-to-back flying and being able to ready up jets in such a short amount of time can be stressful, but it really brought me and my co-workers together and really made us like a family," Karr said. Winning the award "is a tremendous honor."
The wing is in the process of phasing out 48 aging F-15C/D fighters of the 44th and 67th Fighter Squadrons and replacing them with rotating squadrons of more modern aircraft, including the fifth-generation F-35A and F-22 Raptors, F-15E Strike Eagles and F-16 Fighting Falcons.
It is unclear how that transition will impact the group, Goodman said.