Australia's most impactful technology executives and their teams have been acknowledged at the 2023 CIO50 Awards. 
The prestigious event took place at the ICC in Sydney on Tuesday night, as part of the CIO50 Symposium and Awards. 
Sheridan Ware, chief information and technology officer at Charter Hall, took out the CIO50 top spot. Among the many initiatives Ware and her team have spearheaded its Autom8 app, which allows retail tenant customers to update their monthly sales figures in a matter of seconds, a process that previously could take hundreds of hours every month. Ware is a champion of diversity and inclusion on multiple fronts and serves as Charter Hall's executive spokesperson for D&I. As executive sponsor of Charter Hall's CH Proud committee she played a critical part in leading the organisation last year to its first placement in the Australian Workplace Equality Index, an award that recognises Australia's leaders in LGBTQ+ inclusion. 
Ranked No. 2 in this year's CIO50 list is Brett Reedman, CIO at Catholic Healthcare. Among the many initiatives Reedman and his team have been working on is the deployment of HoloLens 2 3D headsets to provide timely access to medical services. 
And coming in No. 3 on the 2023 list is Eglantine Etiemble, chief technology officer at PEXA Group. Etiemble and her team are taking to other markets around the world a blockchain technology that has truly revolutionised property settlements here in Australia. 
The rest of the top 10 in the CIO50 included Richard Exton, Chief technology officer, Aware Super; George Gorman, Chief technology officer, Zip Co, Kate Romanova, former chief information officer, Greyhound Racing Victoria; Jorge Silveira, chief digital health officer, Virtus Health; Jacqui Visch, chief information officer, PwC; Raul Caceres, general manager, data and technology, Canteen, and Adam Carthew, Chief information officer, Service Victoria.
Full details on the CIO50 List . 
Inaugural Next CIO winner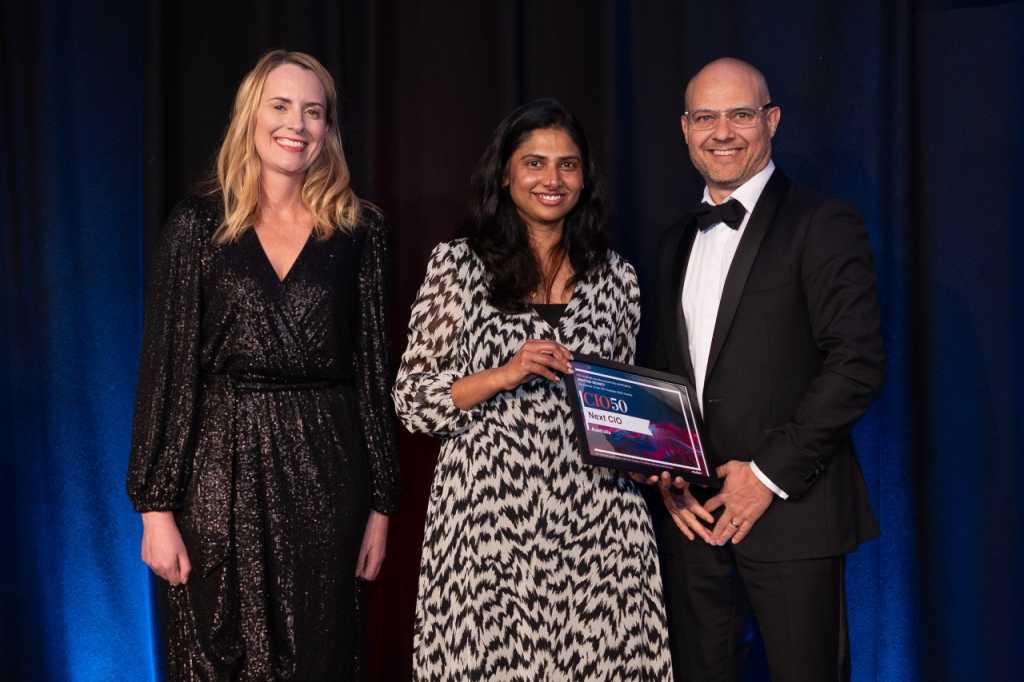 CIO Australia
For the first time in the history of the CIO50 Awards, three emerging ICT leaders were recognised in the inaugural Next CIO category. This award recognises rising stars in ICT roles who are on the pathway to senior leadership. The Next CIO winner is an individual who is exceeding expectations and helping drive innovation through their organisation. 
The finalists in this category were Anafrid Bennet, head of technology, security and property at Greater Western Water, Jane Hatch, head of transformation at My Plan Manager, and Tim Sheridan, engineering director at Seven West Media. 
Anafrid Bennet from Greater Western Water was honoured as the Next CIO winner for 2023. 
The judging panel said all finalists had submitted standout entries and all will likely rise to senior tech leadership roles in the next few years, there could only be one winner. "Anafrid Bennet is already displaying the leadership, technology, business, innovation and people skills to take her far in our industry. And like any great leader, she inspires others to excel, and leads by example. If Anafrid is indicative of the next generation of CIOs and technology leaders, then our industry is in very safe hands." 
CIO50 Hall of Fame winner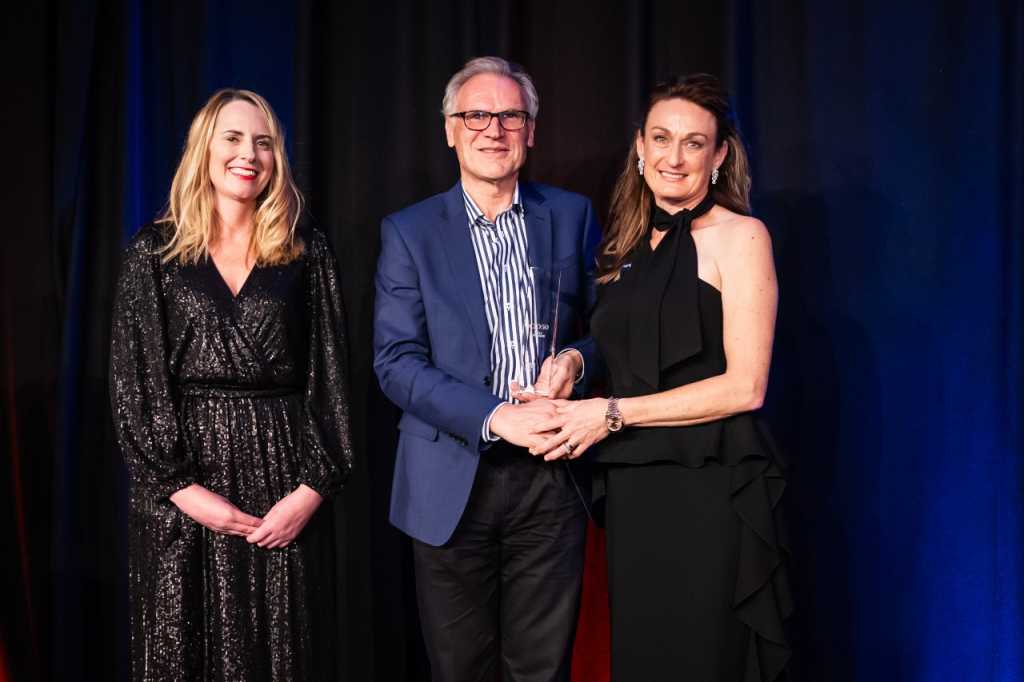 CIO Australia
The 2023 CIO50 Hall of Fame award was given to Angela Coble, managing director in transformation and leadership at Accenture. Previously, she served as a board member and CIO and executive director of business transformation at Johnson & Johnson MedTech Australia & New Zealand and has featured numerous times in the CIO50 List. 
Earlier this year, Angela was honoured with the Medal of the Order of Australia (OAM) for her pursuit to improve the Australian business community through action towards increasing the participation and retention of women in leadership. 
The judging panel said Angela was a deserving winner of the CIO50 Hall of Fame award. "Angela Coble's dedication and tremendous energy to excellent leadership in CIO roles makes her a standout contributor to our community. She has both depth and breadth of technical expertise and is an exemplar of compassionate and people-centred leadership. She is a worthy recipient of this noteworthy Hall of Fame award." 
Team of the Year awards 
Also on the night, four organisations were presented with Team of the Year awards, recognising technology teams that are driving innovation, building and sustaining great team cultures, growing their people, and working to deliver for their companies and customers.  
The Team of the Year: Customer Value category had four finalists including Northern Beaches Council, Suncorp, University of Tasmania and Virgin Australia. 
This award recognises technology teams delivering increased levels of customer value and experience through a refreshed approach to user engagement. Customer Value can span new projects, solutions and initiatives, in addition to processes, business models and operations. 
This award went to Virgin Australia. The judging panel said Virgin Australia had excelled in identifying multiple high-impact customer pain points and resolving them with innovative thinking. "The customer recovery solution, middle seat lottery, and baggage reconciliation system initiatives showed strong evidence of increased customer value and improved experience. Great work from the Virgin Australia team!" 
In the Team of the Year: Resilience category the finalists were Catholic Healthcare, Estia Health and Virgin Australia. 
This award recognises technology teams displaying increased levels of resiliency amid challenging societal, industry and economic environments, overcoming such roadblocks through determination, collaboration and durability. Resiliency is a crucial attribute of any successful department and demonstrates the power of teamwork in the face of adversity. 
The winner in the Resilience category was Catholic Healthcare. The judging panel said the organisation's submission highlights some big projects and clearly sets out challenges that the Catholic Healthcare team have faced over the last few years. "The team's ability to adapt and find innovative solutions showcases their high-level of resilience and the power of teamwork in achieving exceptional success." 
In the highly contested Team of the Year: Culture category, the judges had a tough job narrowing down the submissions to the finalists, which were Assetlink, Arup, Austin Health, Aware Super, R.M. Williams and the University of Newcastle. 
This award recognises technology teams creating an internal culture that inspires individual growth and allows teams to achieve personal and professional goals. Culture can include increasing cultural diversity, celebrating team wins and/or mentoring staff etc. 
The winner of the Team of the Year Culture category was integrated facilities services provider Assetlink. 
The judging panel said the team put through an impressive entry on how they have created and sustained a great team culture. "Assetlink is a case study in how to build a workplace that thrives on collaboration and teamwork. Great leadership at all levels to empower team members to take charge of their own career paths. Some excellent examples of how they are creating personal connections within the team and fostering a culture that is both positive and supportive." 
In the Team of the Year: Talent category, the two finalists were Maurice Blackburn and Zip Co. 
This award recognises technology teams creating an enhanced environment for talent development and growth, allowing skilled individuals to flourish and up-skilling to thrive. Talent can include new capabilities and competencies, or employee talent programs and market initiatives. 
The winner of the Talent category was plaintiff law firm Maurice Blackburn. The judges said Maurice Blackburn had set an "outstanding example of how to build and manage a talent development program."  
"The submission included excellent endorsements from team members who achieved higher levels of performance through the program. The judges were particularly pleased to see the inclusion of metrics that enable the business to measure employee happiness, as it plays a crucial role in nurturing a healthy culture."