FOX News Media CEO Suzanne Scott and President Jay Wallace honored recipients of the 2022 FOX News Media Spotlight Awards on Wednesday night in New York City in loving memory of their late colleague Alan Komissaroff.  
The FOX News Media Spotlight Awards are a tradition for FOX News Media, and management received hundreds of nominations from staff members passionate about celebrating team members who earned special recognition. "America's Newsroom" anchor Bill Hemmer served as the emcee with Fox stars Dana Perino, Lauren Green, and Lawrence Jones among the presenters. 
"You are really the best of us: you're the rising stars, the innovators, the unsung heroes. You are the ones who help us succeed every day," Hemmer said to kick things off.  
The winners were previously announced during FOX News Media' end-of-year town hall event, but Hemmer joked attendees should "act surprised" when their names were called. Fox News held the awards in memory of Komissaroff, the network's Senior Vice President of News and Politics who died in January after a heart attack. His wife, Rachael, attended the event.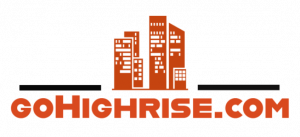 Find & reserve investment properties in
Turkey or Dubai from the comfort of
your home.
LONGTIME FOX NEWS CHANNEL EXECUTIVE ALAN KOMISSAROFF DEAD AT 47
"We created these Spotlight awards a few years ago, to recognize employees who go above and beyond. The name comes from our effort to shine a light on colleagues who do such incredible work," Scott said. "And as Bret Baier once said on 'Special Report,' 'Alan worked harder than just about anyone.'"  
Komissaroff was a proud "FOX News original," having started at the network when FNC launched in 1996. Scott outlined his rise from production assistant to senior vice president, noting Fox News was his first job after college. 
"And somehow, he did all that while helping Rachael raise two incredible children, Ben and Olivia. Rachael, I know Ben is off to Hofstra this fall, and Olivia is heading to high school. Congratulations, you have to be so proud of them both," Scott said. "I just want to say that we are all so grateful to have known Alan, and gotten to work with him all these years, and for every moment we had with him."
Scott noted that the awards were a homegrown concept that she is very proud of, particularly because employees nominate their peers. In 2022, employees nominated 338 colleagues for awards with 96 of them being for the Unsung hero category. 
"Most of you know that I am a Fox News original – starting as a programming assistant in 1996. We didn't have anything like this then, but I will say that we have always been a company that provides opportunity for advancement. Tonight including myself we have 13 original employees," Scott said.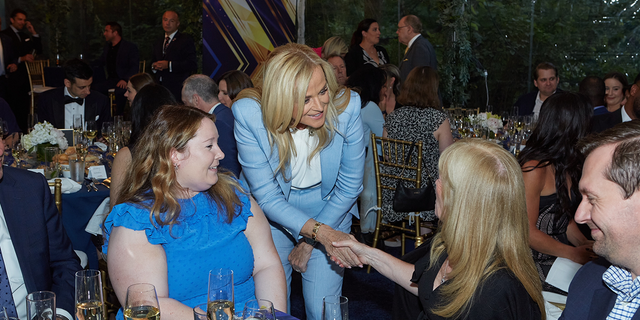 FOX NEWS MEDIA SPOTLIGHT AWARDS RECOGNIZE TEAM MEMBERS WHO WENT ABOVE AND BEYOND IN 2022 
"Jay Wallace is here, and he is an original –- anyone want to guess his first job? Video Tape Coordinator. Kim Rosenberg is another original who started as a Stage Manager 26-plus years ago, and now she is Executive Vice President of News Programming. As we celebrate our spotlight winners tonight let's also celebrate our 25-plus year employees, please stand and let's clap for them," Scott added. "One thing that makes FOX News Media, so special is that it truly feels like a family. And that's not just a cliché." 
Scott told attendees that her team works "incredibly hard to make sure employees feel they are heard, and we foster a communal and collaborative environment," before thanking her executive team and offering a cheers to the winners and their guests. 
Once dessert was served, it was time for the Spotlight Award winners to be honored individually, but first Wallace paid homage to Komissaroff.  
"I worked closely with Alan nearly every day for 27 years, and it's still shocking that he isn't here tonight to cheer everyone on, or to share a few laughs at the bar, or discuss the latest Hemmer touchscreen modifications," Wallace said. 
"Thank you to his wife Rachael for joining us tonight — it means a lot to have you here to witness the many ways in which your husband's work inspired those in this room. Alan's achievements at FOX News are the gold standard, and it's what our best and brightest strive for, every day," he added. "You could see his efforts everywhere, from our complex election night coverage — to all sorts of major breaking stories that roared across the screen. Alan's mix of creativity, passion, and practicality made him the ultimate wingman on big nights in the control room."
Wallace then noted that the four winners in the Unsung Hero Award category all work extremely hard behind the scenes, just like Komissaroff did.  
First up was Tech Ops Project Manager Erika Scibelli.  
"All I really need to say here is that everyone thought Warren Vandeveer retired until he popped up at the appetizer table earlier this evening. While Warren was away recovering from back surgery, his team didn't miss a beat thanks to Erika and her outstanding abilities to multitask and keep 1211 operating at an optimal level," Wallace said. 
Senior Supreme Court and National Security Producer Bill Mears went next, with Wallace noting he couldn't attend the event. 
"He's likely reading thousands of pages of court documents, so we don't have to. You may not know that when we're awaiting a key decision  – like the 18 remaining on the SCOTUS calendar — Bill often drafts several different emails for assorted outcomes, just so he can get us information as soon as a ruling comes," Wallace said. "All of our platforms are more successful, because of what Bill does on a daily basis."
The third winner was Media Production's Evan Lubell, who has been promoted to Senior Operations Manager since he was recognized in December. 
"Evan is now fully immersed in plans for Democracy '24. He recently taught himself a new program in order to build a prototype for Bill Hemmer's election touchscreen, and he managed several of this year's show launches and redesigns," Wallace said.  
 FOX NEWS MEDIA HONORS 2021 SPOTLIGHT AWARD WINNERS, PAYS TRIBUTE TO PIERRE ZAKRZEWSKI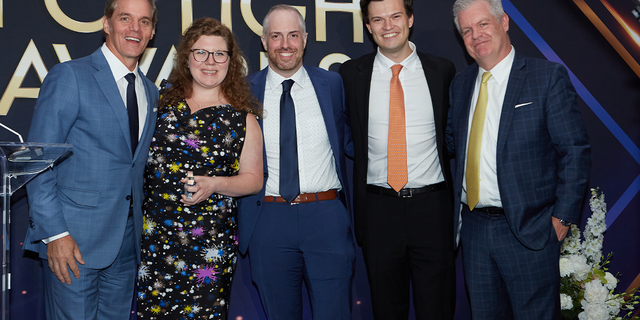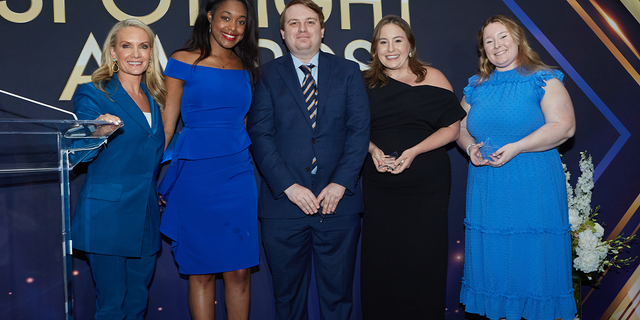 The network's lead political affairs specialist, Remy Numa, was the final winner of the category.  
"Remy is a politics nerd, and I mean that in the best possible way. He tracks races, helps us forecast elections, and developed an app to help our teams track results. Remy's Power Rankings column was one of the most accurate political forecasts of last year," Wallace said. "He notes he accurately predicted 100% of statewide races and 98% of House races. Impressive, but next time, please also predict the Powerball numbers." 
Perino, co-host of both "America's Newsroom" and "The Five," took the stage to introduce winners from the Rising Stars category.  
"The Rising Stars are the employees who will run our company someday. They're still relatively early in their careers, but they're advancing so quickly, we could all be working for them by the end of the night," she said.  
HARRIS FAULKNER'S 'FAITH STILL MOVES MOUNTAINS' DETAILS ASTONISHING STORIES OF PRAYER AND THE POWER OF FAITH
Lakia Atkins, who recently celebrated her one-year anniversary at Fox News, was the first recipient.  
"She's an Associate Producer in DC, and since her win in December, she's worked to expand her skill set. She's trained as an editorial coordinator, learning how to pitch and prep reporter assignments, and how to plan coverage at Capitol Hill and The White House," Perino said. "She's also trained on package producing, and on filling in as a story pitch coordinator. Not bad for a first year on the job."  
Sam Harris from the Resource Operations Center was honored next. 
"Sam continues to make rapid progress, since starting with us during the pandemic. He's been training on all six areas in the Operations Center, including transmission, ingest, and remote coordination. Basically, everything that helps us deliver the news," Perino said. "Sam says he's also helped to make our booking system a bit easier for both News Channel and Business teams, and he's assisting with the changeover in our video and routing systems." 
Human Resources director Jordan Knesek also took home the prestigious award.  
"You know she developed the amazing Career Launch Program, to help newer employees get off to a solid start. She's also been a tremendous resource for Fox Weather," Perino said. "She has continued to provide valuable support."
Fox Business Network's Maggie Westerman was honored next.
"[She] was recently promoted to associate producer for 'The Evening Edit,' congratulations, Maggie. She helped relaunch the show in its new 5 p.m. timeslot. Maggie tells us she produces the show's lead segment each day and continues to book guests all while coordinating Elizabeth MacDonald's Fox News Channel hits," Perino said. "Congratulations to all our Rising Stars!" 
Green came on stage to present the Community Service Award, which goes to an employee that has dedicated time and energy to his or her local community and is most active in company volunteer efforts. "Outnumbered" co-host Emily Compagno – who teared up when she found out she won last year – does just that, constantly devoting time and energy to charities and other organizations that benefit everyone from children with cancer to law enforcement. Her empathy, hard work, and contributions to the countless organizations for those in need are unmatched. 
"This award goes to someone who puts her whole heart into helping others," Green said before introducing Compagno. 
"Honestly, I don't even know how she manages to find time for TV, considering all the time she spends volunteering for good causes. I am not going to list them all, because I don't know how late the bar is staying open tonight, and we don't have that kind of time," Green said, before noting several including U-S Veterans Corps, Dogs for our Brave and United Valor.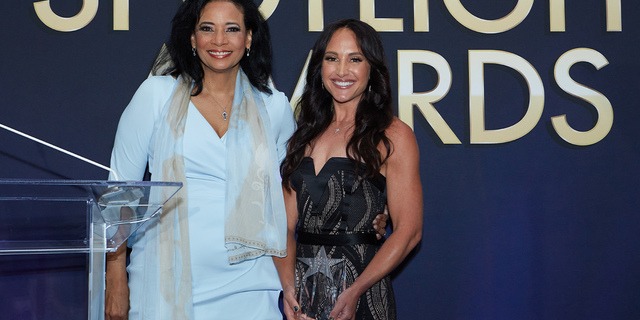 Human resources executives Kevin Lord and Nicolle Campa then introduced Seleena Muhammad, the Inclusion Ambassador of the Year Award winner.  
The Inclusion Ambassador of the Year Award is for an employee who leads by example in celebrating, engaging, and advocating on behalf of diverse community voices both inside and outside of FOX News Media. Muhammad, a Washington, D.C.-based director of technical operations and engineering, has done just that by creating a culture of diversity, inclusion and belonging, as well regularly encouraging people to step outside their comfort zones in order to grow professionally.  
"Seleena helps us celebrate diverse voices both in and outside our company. She has been nonstop in her efforts to maintain a culture of diversity and inclusion. She is an advocate, an ally, and a colleague beyond measure. Since her win in December, she's been working on establishing a jobs pipeline from different universities, to bring in new perspectives from the next generation," Lord said.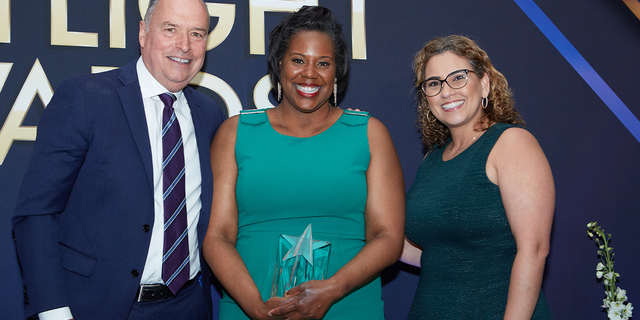 Lawrence Jones then introduced Allan Giacomelli, the Innovator of the Year.  
The Innovator of the Year recognizes an initiative that created a new way of delivering information, telling a story, or doing business. Giacomelli, director of media technology operations, helps keep FOX News Media a step ahead of the competition with cutting-edge technology to bring the "wow" factor to viewers.  
"He is the guy charging forward on new technology. No project is too daunting, and no challenge too tough. If you're in need of some onscreen magic, you know to ask our resident magician," Jones said. "Since we announced Allan's win last year, he's been working on new immersive concepts for 'Fox & Friends' and 'Jesse Watters Primetime.'" 
Giacomelli ha also worked to develop the new Studio B, in addition to updated concepts for the 2024 election.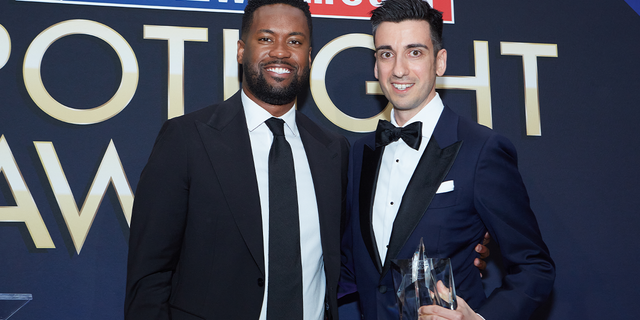 Scott returned to present the Impact Award to Christina Pelosi, who significantly and positively impacted business processes and profitability over the past year.  
Pelosi, a senior legal information specialist for the Brain Room, was praised by peers for her role in the groundbreaking series: "Fentanyl: The Poisoning of America," and her knowledge of the justice system has been invaluable to the Brain Room and to FOX News Media. 
CLICK HERE TO GET THE FOX NEWS APP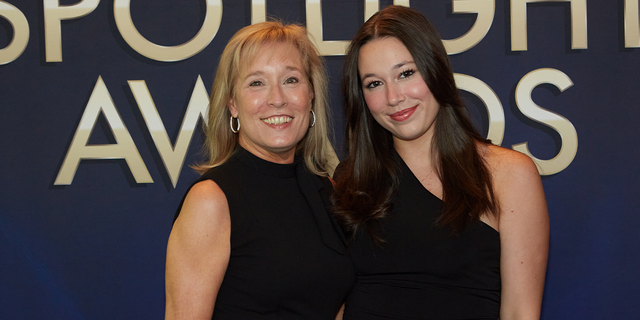 "We are so grateful that we've been able to draw on Christy's vast experiences as we've worked to uncover the extent of America's Fentanyl crisis. Her work has let us consistently drive the story forward, and remain far ahead of the competition," Scott said.
"And while she understands complicated and sophisticated law, she's amazing at explaining and simplifying complex legal issues to her colleagues across the company. Recently, Christy has also done some excellent research on the cartels," Scott added. "Overall, Christy's dedication, professionalism, and reliability continue to have an extraordinary impact across our platforms, and we're so thankful for her work and proud to have her on our team."
A GoFundMe fundraising drive for Komissaroff's family was launched after his sudden death.