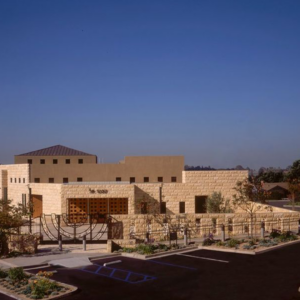 Temple Emanu-El will receive the Light of Pride award at Light up the Cathedral on Wednesday, July 12. The religious service takes place at 7 p.m. at St. Paul's Cathedral in Bankers Hill.
The interfaith religious service during Pride week always honors a faith-based group or organization which serves the LGBTQ+ community. Rabbi Devorah Marcus of Temple Emanu-El will give the keynote address at the service. 
"We were just ecstatic because it's just such a huge honor. This is totally fitting for our history and working values," associate Rabbi Benj Fried said.
The Reform Synagogue, from a social justice-focused tradition, located in Del Cerro has been a stalwart supporter of the LGBTQ+ for years. The synagogue was the first Jewish organization in San Diego to march in the Pride Parade in 1998. They have marched every year since.
"It's a big deal, to be the first, to be the one that goes out on the ledge, so to speak, and stands up for what is right," said Fried. "There was a lot of hurt. A lot of people had been rejected by their religious communities, particularly during the AIDS epidemic."
Today, the temple has many LGBTQ+ members and in the form of Fried, leaders as well. Reform Judaism was on the frontlines of the labor movement to end child labor, the Civil Rights movement and now fights for LGBTQ+ rights.
"That's really who we are– a community that is very socially engaged, a community that cares a lot about spreading a message of love and inclusion," Fried said.
In recent years Temple Emanu-El's advocacy committee organizes for trans rights, voting initiatives, climate change and against gun violence.
Pride Executive Director Fernando Lopez said Temple Emanu-El has "really been doing an exceptional job highlighting the rise of antisemitism across the country here regionally, and how that intersects with the LGBTQ community."
Fried added, "Our people in the synagogue are just good people… they're not ostentatious, they're very humble, but they're also very loving and very giving of themselves and that's what makes such a really great community, and in particular a community where so many people of diverse backgrounds, diverse family structures, are able to be comfortable and to be themselves."
Fried, alongside Rabbi Marcus, will represent Temple Emanu-El at Light up the Cathedral to receive the Light of Pride award.
Learn more at: sdpride.org/lightup/.